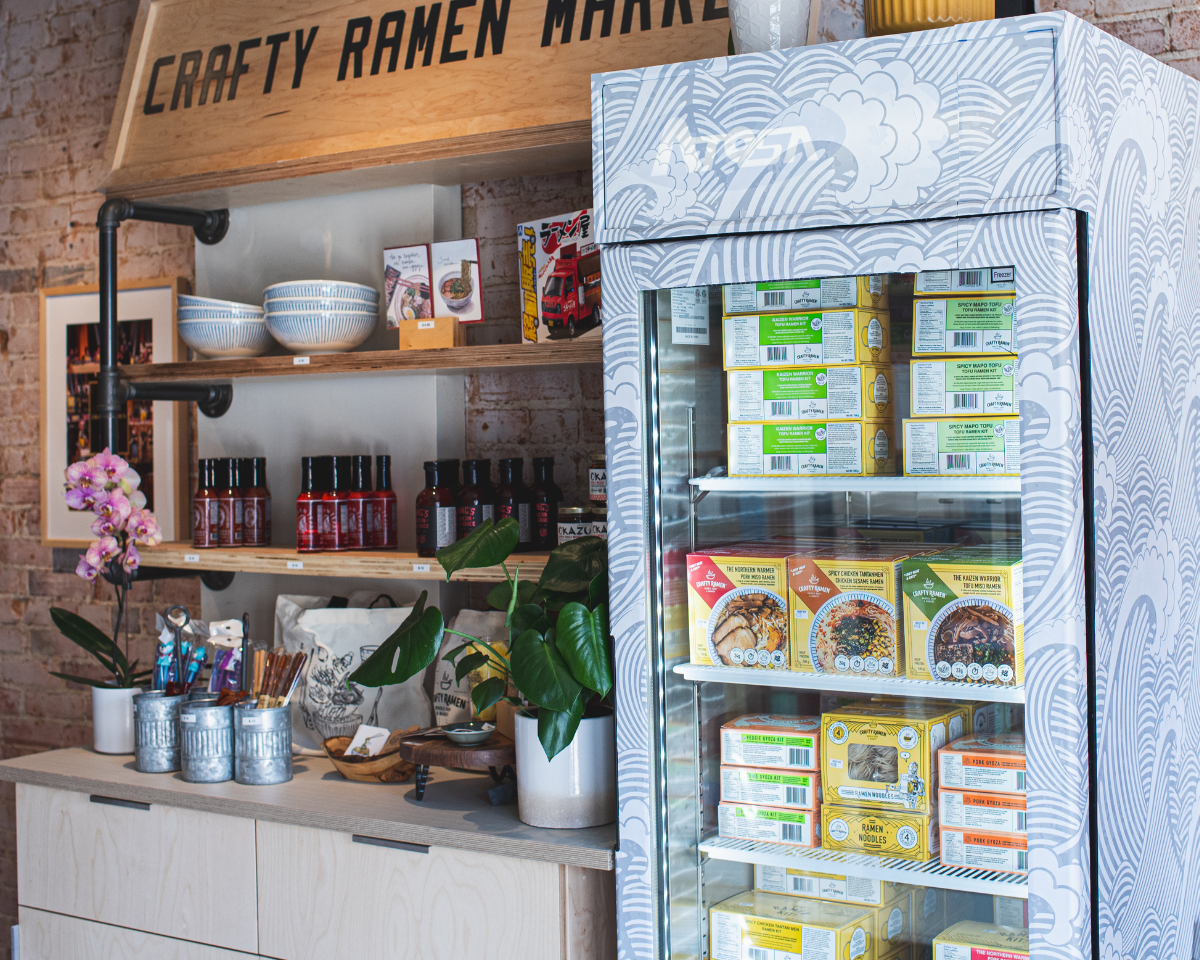 CRAFTY IN GROCERY
Move over instant ramen. Restaurant-quality ramen is ready at-home in 7 units in the microwave or stove top.
WE'RE SERIOUS ABOUT RAMEN.
Frozen 'Heat & Eat' Ramen.
Out of the freezer into your microwave or stove top, ready in 7 minutes. Includes broth, noodles, protein and toppings all form frozen together.
We make almost everything in-house using the highest quality local ingredients we can find. We use the same recipes as in our restaurants.
Want to Sell Crafty Products?
Looking for cool new products for your grocery store?
We are distributed nationally in Canada through UNFI and are partnered with other local distributors in Ontario.
Let's Partner! Leave your details below and we will be in touch within 24 hours, Slurps up!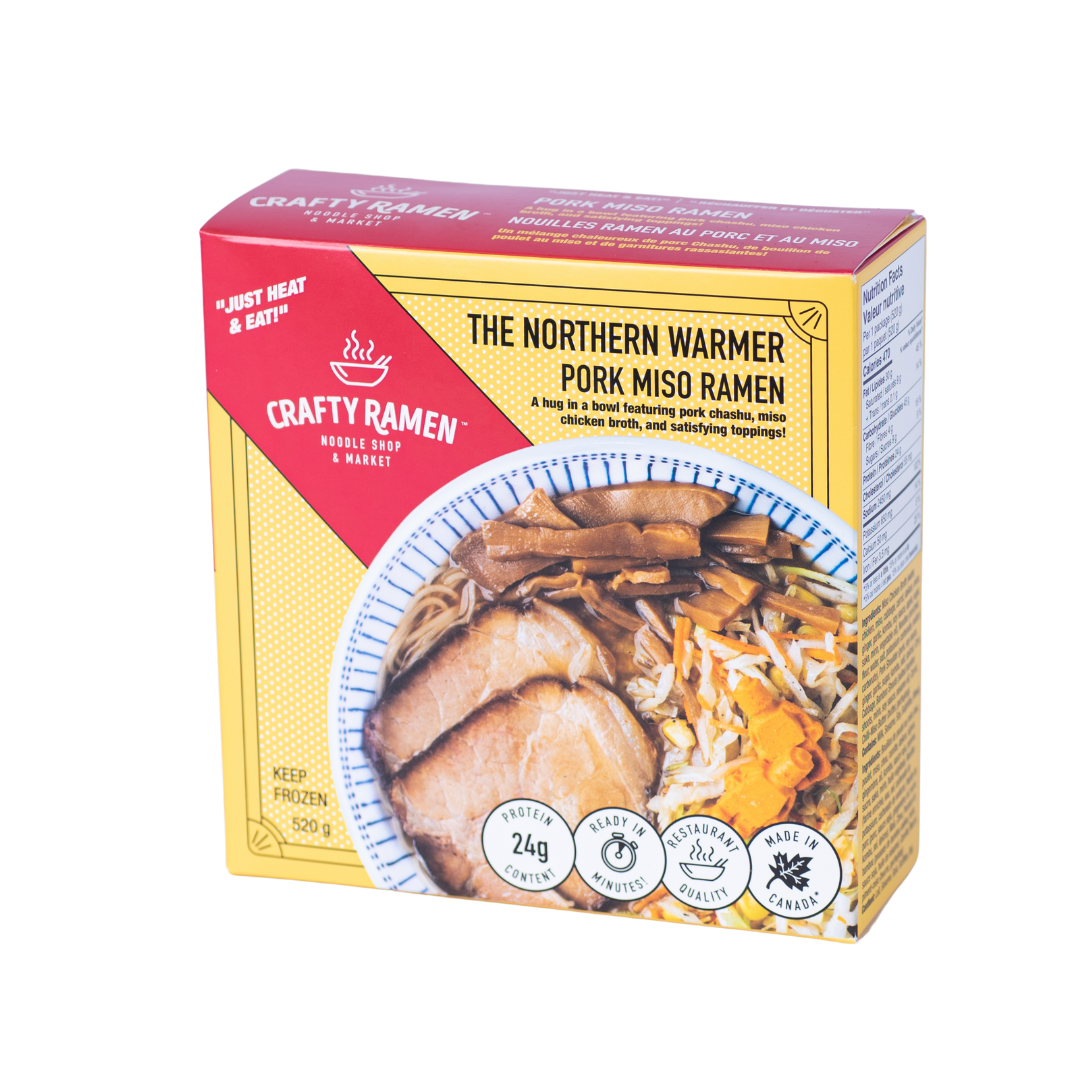 The Northern Warmer
A hearty and satisfying ramen inspired by the Sapporo region of Japan, featuring miso chicken broth and pork chashu. Frozen product with 12 month shelf life.
Net Wt: 520g
MSRP: $12.99
Protein: 24g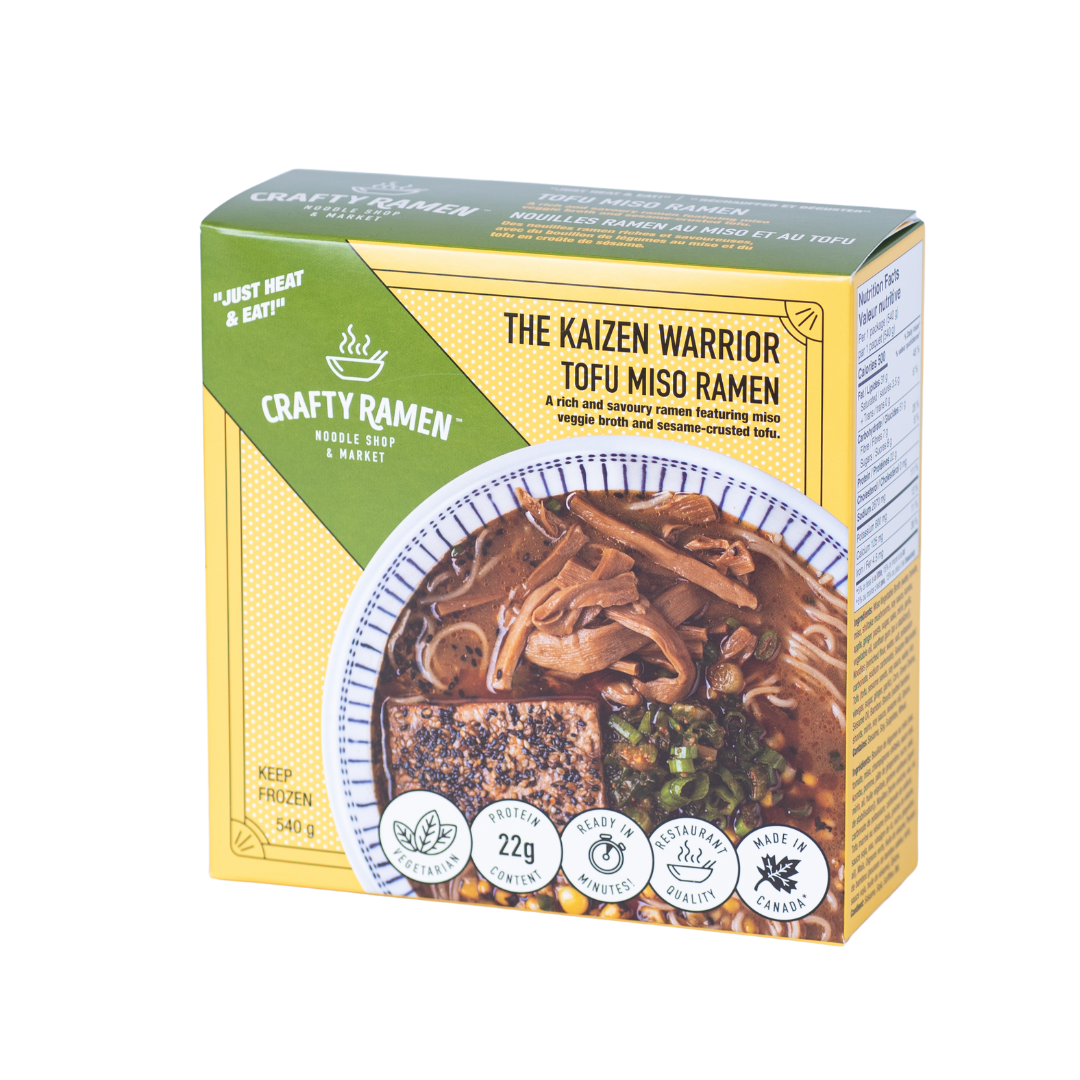 The Kaizen Warrior
A rich and savoury vegetarian ramen featuring our miso veggie broth and sesamecrusted tofu. Frozen product with 12 month shelf life.
Net Wt: 540g
MSRP: $12.99
Protein: 22g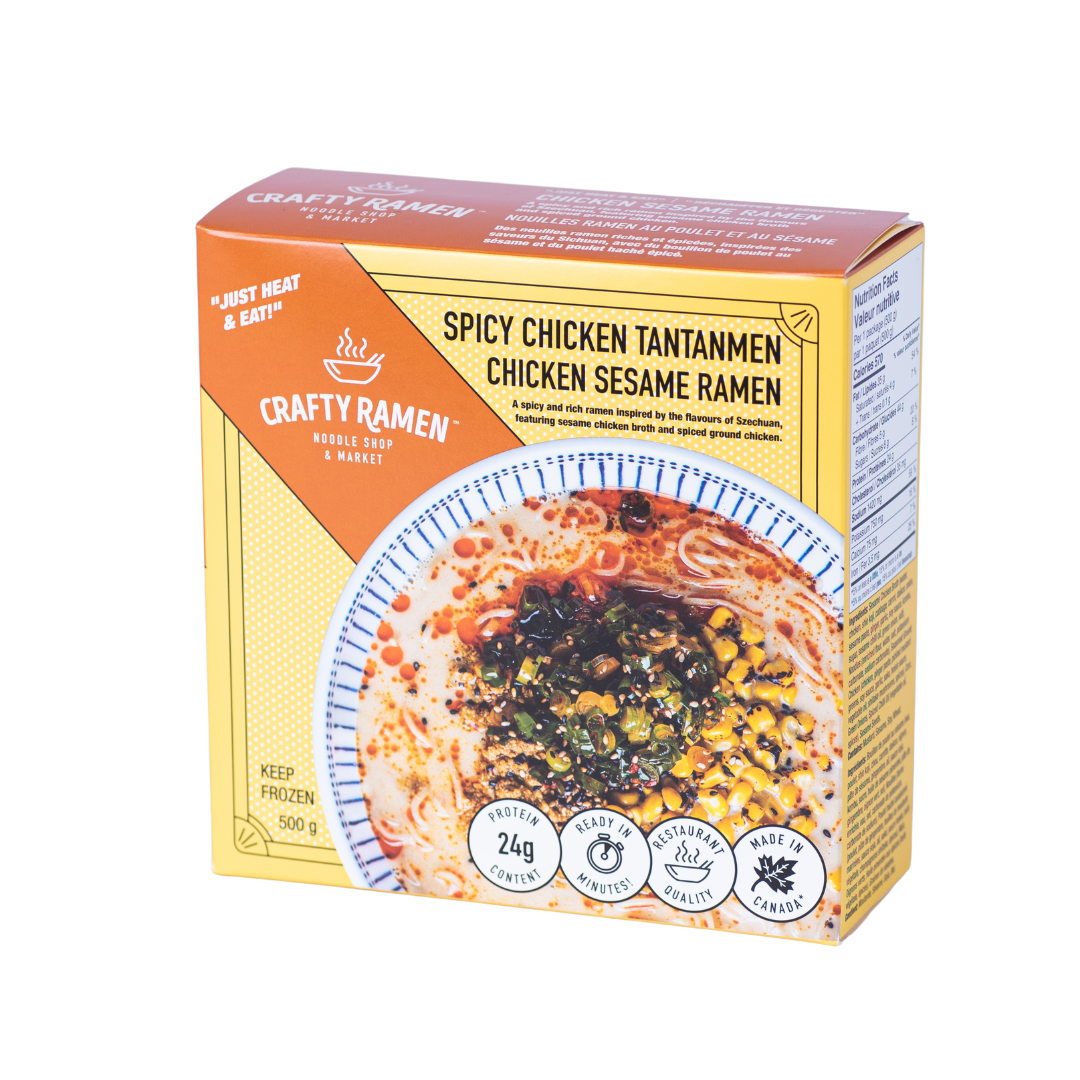 Spicy Chicken Tantanmen
A spicy ramen inspired by the flavours of Szechuan, featuring sesame chicken broth and seasoned ground chicken. Frozen product with 12 month shelf life.
Net Wt: 520g
MSRP: $12.99
Protein: 24g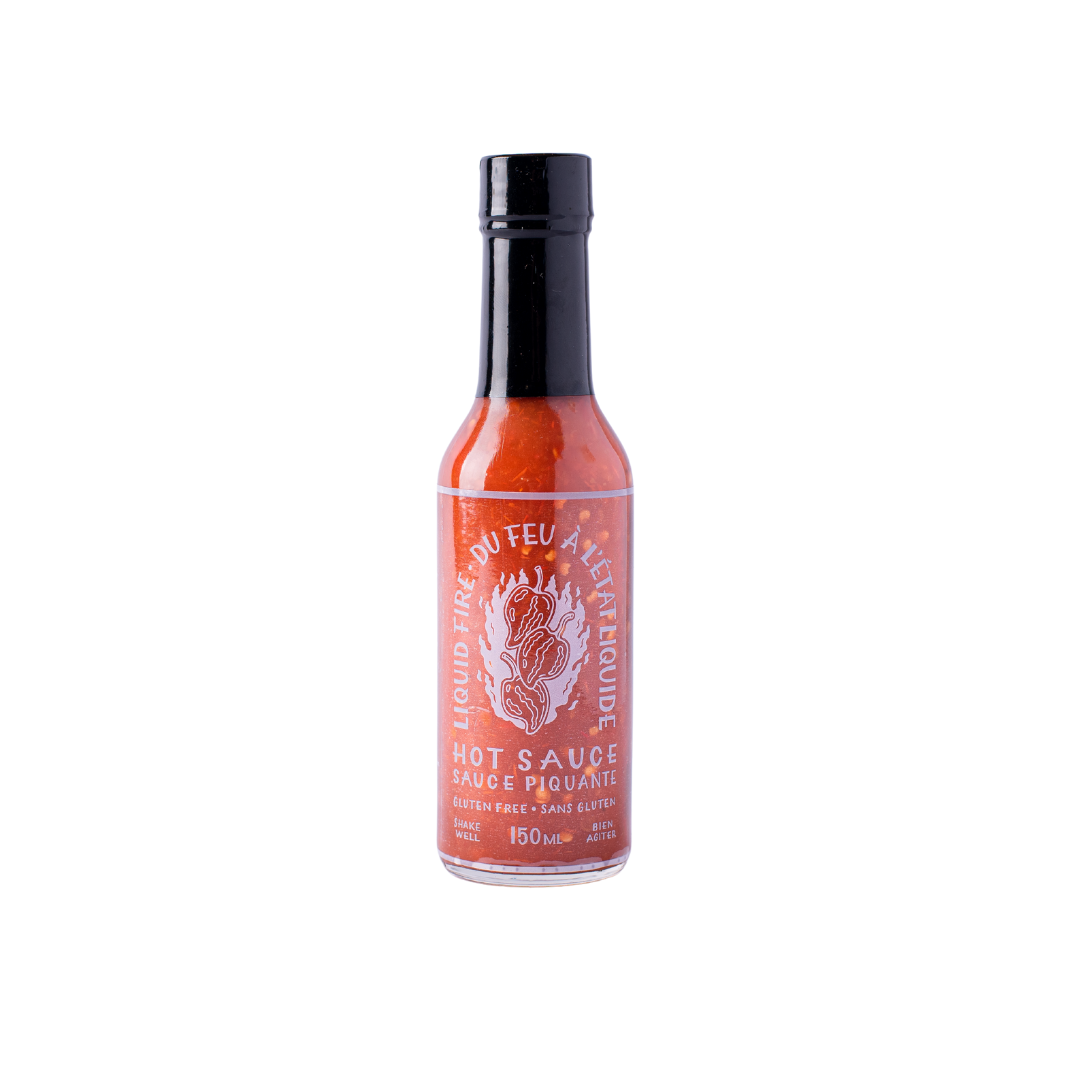 Liquid Fire - Hot Sauce
A legit spicy hot sauce, Liquid Fire is a bona fide flavour enhancer that also brings the heat to whatever you put it on!
Shelf stable.
Vol:150 ml
MSRP:$11.00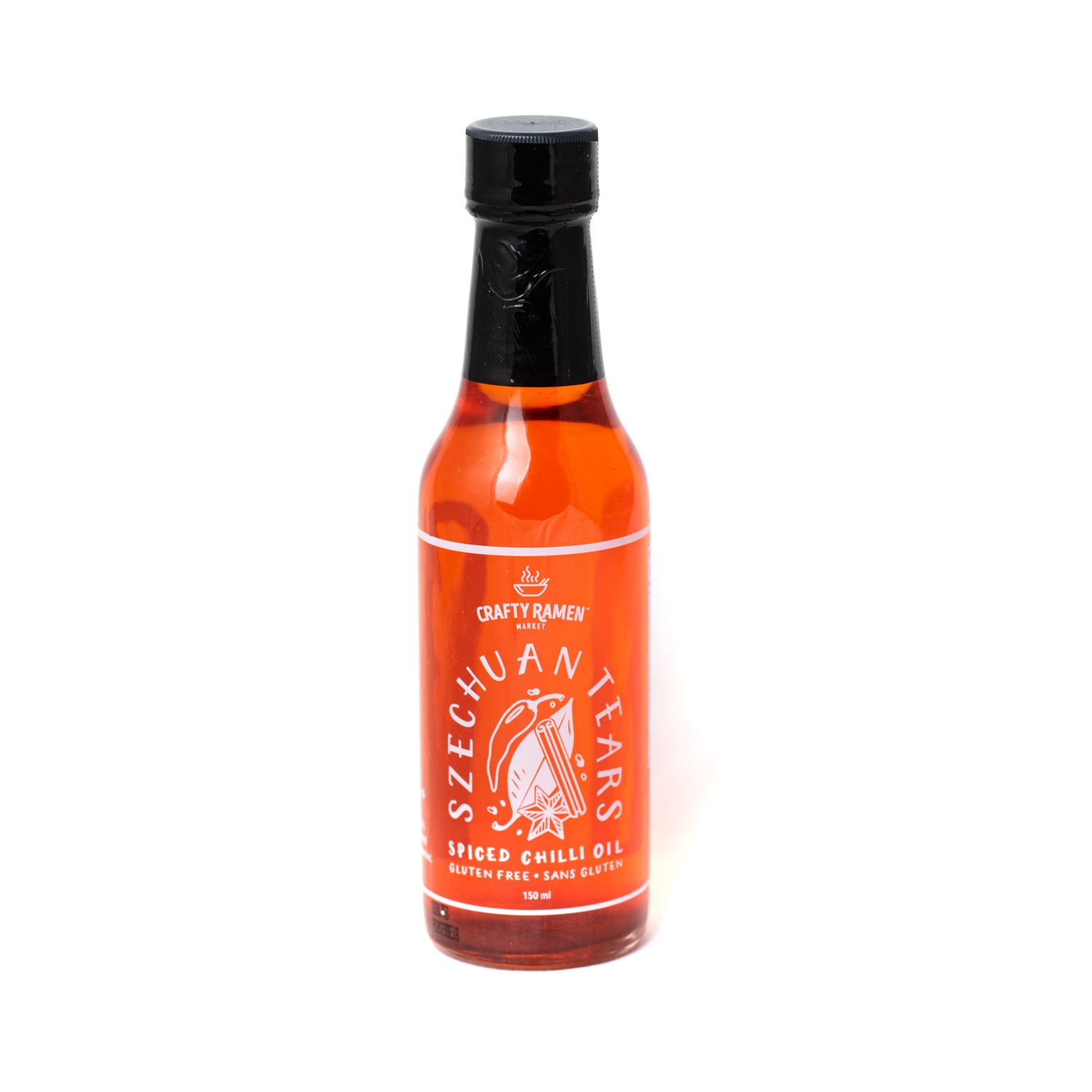 Szechuan Tears - Chilli Oil
Crafty's house-made chilli oil, bursting with tingling Szechuan spice. Add it to anything that needs an extra kick of heat!
Shelf stable.
Vol: 150 ml
MSRP: $11.00
Ramen Noodles
Our ramen noodles crafted from artisanal organic Ontario wheat. Made in-house daily, use these as a pallet for creativity for so much more than ramen.
Frozen product with 12 month shelf life.
Net Wt: 480g
MSRP: $9.99
Review
"Great service. Great food. No, sorry: AMAZING FOOD. They are always my go-to. Because of these guys, I'm always craving ramen."
Review
"Crafty Ramen is my favourite at-home meal experience! It's fun and easy to make, it's local and best of all, it's delicious. I get the satisfaction of making my own ramen without spending hours trying to figure out how to actually make it. It's a perfect at-home date night idea or when I don't feel like cooking anything extensive."
Review
"Ramen was great! Fun packaging and great experience overall."